NORTH SHORE TABLE TENNIS CLUB will be bringing Table Tennis equipment and activities for FREE to try to these community events in 2017:
July 22, 2017   Vancouver Pride Society : Pride Sports Day and Table Tennis at Second Beach , Stanley Park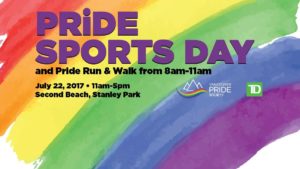 Pride Sports Day will bring together members of the LGBTQ2+ community and their allies together for a fun, active, and inclusive day of celebration at Second Beach
See video from the event : https://youtu.be/W41gt92u55Q
August 1, 2017 Gold Coast 2018 Queen's Baton visiting Vancouver 12pm & 4pm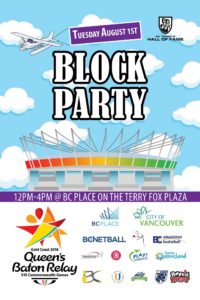 In celebration of the Gold Coast 2018 Queen's Baton visiting Vancouver we're hosting a block party on the Terry Fox Plaza at BC Place!
Join us between 12pm & 4pm on August 1st for sports, music, face painting & even photo opportunities with the Gold Coast 2018 Queen's Baton!
In addition, admission to the BC Sports Hall of Fame is FREE all afternoon, and at 4pm Commonwealth & Olympic Games athlete Brent Hayden will be delivering a 'Hero in You' presentation! An afternoon not to be missed!
The Baton will of course be there for photo opportunities, along with music, sporting organisation demos, other sports community group booths & more and we are invited to bring Table Tennis to this event .
We have lots of Table Tennis activities ready with the main focus on Sport & the Commonwealth Games Baton!
August 2, 2-17 Prance on the Pier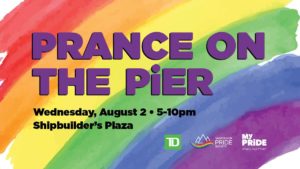 Join the Vancouver Pride Society in partnership with the City of North Vancouver for the first Prance on the Pier! This free all-ages event is a fabulous way to show your pride and support Table Tennis sport at "The Shipyards" on Wednesday, August 2 at 5 PM – 10 pm
There will be so much more that you won't want to miss!
August 12 – 13, 2017 North Vancouver FUN CITY FESTIVAL "SLIDE THE CITY" . Come ride the slide and try Table Tennis for extra fun !
http://www.cnv.org/parks-recreation-and-culture/signature-events/fun-city-festival/fun-city-festival-map-info
July 18 and AUGUST 22,  Civic Plaza at City Hall , an event called "BOUNCE 2017" from 12-4pm, organised and promoted by The Corporation of the City of North Vancouver and North Vancouver City Council.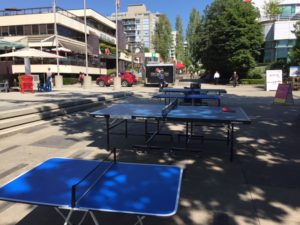 Come BOUNCE –  Playing Table Tennis is Exercise For Life!!!  Table Tennis greatly improves hand/eye coordination and is a better aerobic exercise than most realize. How does exercising while having FUN sound to you?
See video from July 18 event https://youtu.be/Gsr_CaSP2kw
August 26, 2017 North Vancouver " Norgate Block Party 2017 " 1200 and 1300 blocks of West 15th. The whole neighbourhood of Norgate will be having FUN playing Table Tennis
September 10, 2017 West Vancouver Ambleside beach "COHO Festival" . The Coho Festival is held the second Sunday in September and features famous Coho Salmon Barbecue, the Coho Garden, Stewardship Zone, Kids Park, Main Stage, the Squamish Nation Village. The day starts with a Coho Run, Coho Swim, pancake breakfast and Table Tennis !
September 16, 2017 " With Glowing Hearts – Canada 150 Celebration Street Party " organised by West Vancouver City's Child and Family Hub at Sentinel Secondary 10am-4pm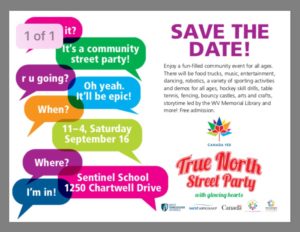 http://westvancouverschools.ca/calendar-of-events/true-north-street-party
October 1, 2017 West Vancouver Aquatic centre " Pumpkin Festival-Harvest festival " from 10:00 am – 3:00 pm for an fashioned, harvest community festival with dozens of activities and interactive exhibits, fun with Table Tennis for all.
Bringing Table Tennis activity to any community event is endless FUN