NORTH SHORE TABLE TENNIS CLUB Challengers Ladder : SO MANY TO CHOOSE FROM and play endless games 
ALL LEVELS welcome, from Novices to Competitive, youth , seniors, doubles, singles, mixed doubles and more
Register here:  http://www.r2sports.com/tourney/home.asp?TID=21828            
We have designated preferable table available specifically to play ladder matches, you can book the table for no extra charge only for ladder match
Here is the link – "You can easily see our real-time availability and schedule time with us at http://calendly.com/nsttc-ladder
Contact event director: Mike Dumler & Luba Sadovska
EVENT LOCATION(S)
North Shore Table Tennis Club and clubs all over BC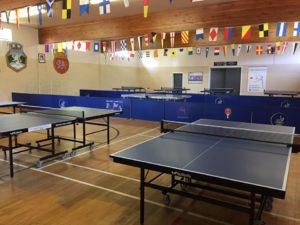 Event Description:
The NSTTC challengers ladder has two divisions, Recreational and Competitive. Match play usining ITTF rules
Challenge Ladder Info:
Challenge matches are arranged by participants mutual agreement to date,time, and location. Players are responsible for officiating own matches or arranging another player to officiate, and must report results online.
Game Format:
Best of 5 games to 11 (must win game by 2 points) determines winner.Standard match play rules (ITTF) apply
How to get started:
Click join at the top to register for the challenge ladder. A new participant is allowed 1 open challenge where they can pick one person to challenge and if they win they take that spot, but if they lose, they start from the bottom.
Fees:
NSTTC is currently offering free ladders! Please download the free R2 Sports app to make challenging and reporting results easier.
Challenges:
This ladder works off a points based system. The winner receives 20 points and the loser receives 10 points. THE WINNERS OF BOTH LADDERS WILL BE ANNOUNCED AND AWARDED at our Annual Christmas Party 2017 in December
Reporting Results:
It is the winner's responsibility to report the results by clicking the report results link above. The opponent will receive an email notification that the results were reported. Please contact the event director if an incorrect result was reported. You can challenge at anytime , you can play at any club, spread the word, have as many players registered as possible, challenge the players from other clubs so we FINALLLY HAVE IN "ALL" CLUBS COMPETITIONs . DOUBLES LADDER coming SOON ! Report to Ladder organisers right after your match
Non-Activity Penalty:
Participants must make at least 1 challenge within 30 days of the last played match. Failure to do so will result in a rankings penalty that applies to everyone except for the #1 ranked person. Participants ranked 20 and better receive a 2 ranking spot penalty and those ranked 21 and worse receive a non-activity penalty of 3 ranking spots.
Other Challenges:
If there are multiple challenge ladders and the people playing each other are both on the other ladder(s), the result also counts toward the other ladders.
External Challenges:
If both participants are on an outside  challenge ladder, results from the outside ladders also count towards the ladder rankings here.
R2 Sports app for this event: 
http://www.r2sports.com/portfolio/r2-event.asp?TID=21828
Use the app to follow participants and receive results. With app installed, this link loads event details.