North Shore Table Tennis Club offers Programs to introduce the Sport of Table Tennis to kids, youth, seniors and people of all ages and levels through a progressive range of fun and innovative lessons and activities.
The club has been establishing first Table Tennis Young Athletes and developing club Team representing in tournaments and events. Taking kids through progressive training of Long Term Athlete Development (LTAD)Program from elementary to high schools we now have athletes to represent North Shore in Tournaments. And we are growing.
LTAD program modules meet the principles of Table Tennis Canada's Long term Athlete Development Model.
LTAD TABLE TENNIS CLASSES    every MONDAY ,  THURSDAY and FRIDAY from 4-5pm and 6-7PM  January to March 2018 the fee is $20.00 per class plus GST
Mondays Jan 08 to March 12, 2018 …9x $20=$180.00 plus 5% GST= $189.00 (no class Feb 12th for holiday) 
Thursdays Jan 11 to March 15, 2018 …10 x $20 = $200 plus 5% GST = $210.00
Fridays  Jan 12 to March 16, 2018 …10 classes x $20 = $200 plus 5% GST = $210.00      
Classes intended for Intermediate to Advanced youth players
All classes for LTAD are 60 minutes long, providing variety of fun, table tennis specific drills, activities altering the game easier or harder. We include warm up and cool down in each lesson.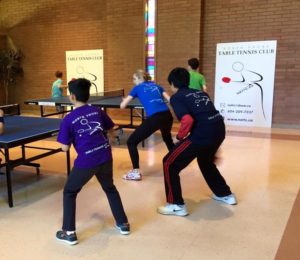 For Beginners we offer KIDS and YOUTH CLUB TABLE TENNIS CLASSES every MONDAY and/or FRIDAY from 5-6p
MONDAYS: January 8 to March 12 (NO CLASSES on Statutory Holidays) 60 minute Classes 5-6pm 
FRIDAYS: January 12 to March 16 (NO CLASSES on Statutory Holidays) 60 minute Classes 5-6pm 
Classes: 9 x $18.00  = $162.00  plus 5% GST    TOTAL :$170.10                                           
Classes intended for Beginner to lower intermediate players
CALL TO REGISTER 604-209-7037
NORTH SHORE TABLE TENNIS CLUB Coaches BIOs :
North Shore Table Tennis Club  Head Coach – Luba Sadovska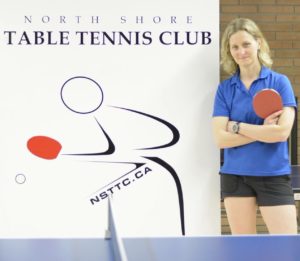 West Vancouver Schools Table Tennis Head coach
Coaching Association of Canada "Introduction into Competition" NCCP Base level and Advanced level certified coach
Learning Facilitator – teaching and creating new and future Table Tennis coaches
Active player and competitor of Table Tennis Canada
Table Tennis Canada member and advocate
Czechoslovakia Table Tennis Junior National Team Member 1985-88
Slovakia National Team Member 1988-2000
Head Coach at NSTTC for LTAD "Long Term Athlete Development" Academy
Table Tennis Master Classes Head coach and developer
Head coach at West Vancouver Schools Table Tennis Program